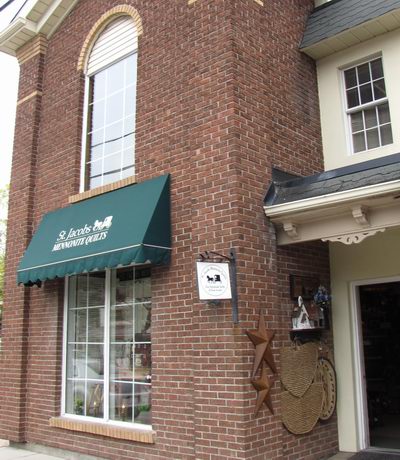 St. Jacobs Mennonite Quilts was founded in 1991. It is situated on the main street of picturesque St. Jacobs in the heart of Mennonite country. The store has its own unique character and is well worth a visit.
A love for the workmanship of the local artisans prompted the creation of St. Jacobs Mennonite Quilts. Dedication to superior design and quality throughout is just one of our trademarks.
The Quilt Collection colour coordination and the craftsmanship of Old Order Mennonites and Amish of Waterloo County, Ontario, is what makes these quilts of the highest quality. Traditional quilting has become an increasingly rare art form that is often imitated by inexperienced quilters or machine-quilting. Each and every one of our quilts is a unique work of art - hand quilted and made with superior craftsmanship. The quilts are most often used as bedspreads but also make outstanding wall hangings.
Our quilts are recognized internationally as emblems of Canadian history and culture. We have proudly sold them to quality-minded clientele from all over the globe, including England, France, Scotland, Ireland, Italy, Australia, Holland, New Zealand, Japan, Spain and the United States.
We enjoy designing custom-made quilts for clientele with specific colours or patterns in mind. We have also had the opportunity to design quilts for specific events, functions and festivals. In 1992 we made a Blue Jays quilt for the year they won the pennant. We have also made a Scottish Quilt for the Scottish Festival, a Lighthouse wall hanging for the Bruce County Museum and a multicolour nautical Quilt for a client in Bahamas. Please email or call us with your own custom-order questions or ideas.
St. Jacobs Mennonite Quilts also offers one-of-a-kind and locally made home decor items. There are unique collectables, antiques and multiple items for the home, office and garden. Treat yourself or take home a unique gift made in Mennonitecountry. It's well worth a visit! Stop by for a warm country welcome.